The Minimum Viable Product Update (v0.0.7)
---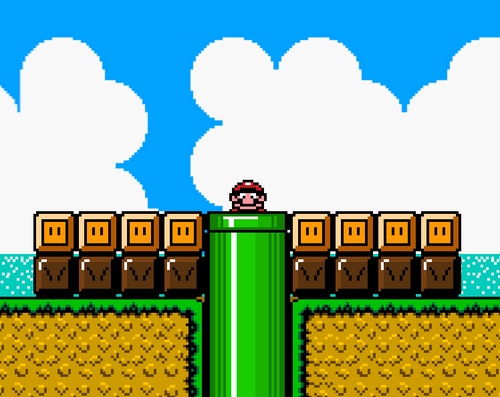 v0.0.7 is by far the project's biggest update yet, finally turning the game into an actual playable experience with a beginning and end. This update also includes a number of smaller improvements, which are detailed below as well:
+ The entire first level is now fully playable, getting to the end door loops back to the title screen
+ Music for both the title screen and level has been added
+ The game now has working pipes!
+Fullscreen support has been properly implemented, and can now be used with Ctrl+F
+ Parallax has been adjusted and improved, the water now scrolls in two different layers, implying more depth
+ Fire blocks have been added
We're on the home stretch to finishing the first level now, next up will be to add coins and a hud. Once the first level is completed, this project will most likely be going on an indefinite hiatus for a bit as my fall semester gets going, as I will only have limited time and would like to move on to other projects. I do plan to hopefully return to this at some point though, and either way once the full demo is released I'll be opening up the GitHub repository to the public so you guys can make your own levels and mess around with it in my absence. Regardless, thanks so much for supporting the project, see ya'll for the next update!
-Citrus
Get Super Mario Land 2 HD
Comments
Log in with itch.io to leave a comment.
Looks good, keep work up, but Watch out for Nintendo!
Thanks! Yeah I'm sure it's only a matter of time but them considering this a threat to their business would honestly kind of be a complement.